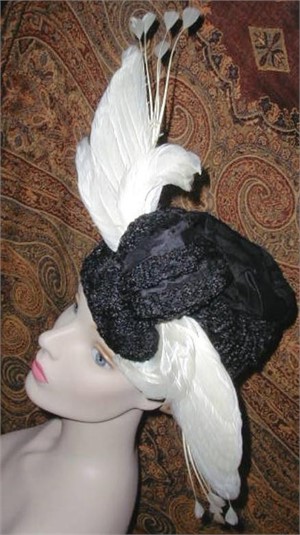 Click image to enlarge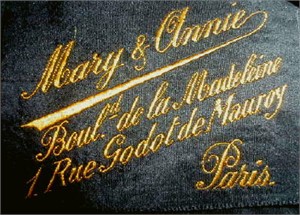 Click image to enlarge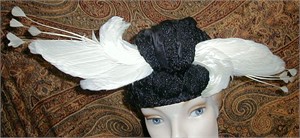 Click image to enlarge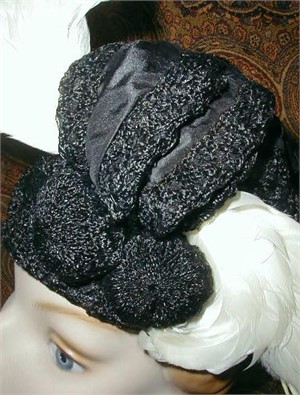 Click image to enlarge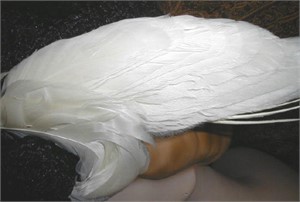 Click image to enlarge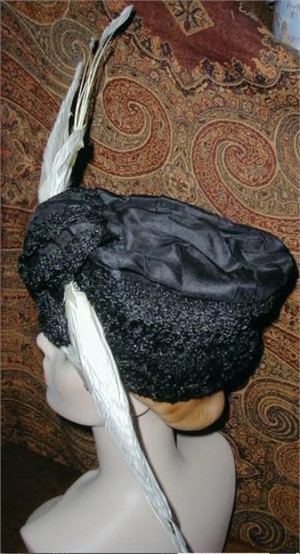 Click image to enlarge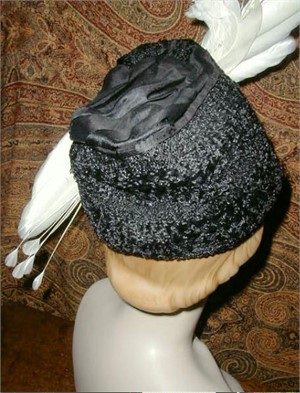 Click image to enlarge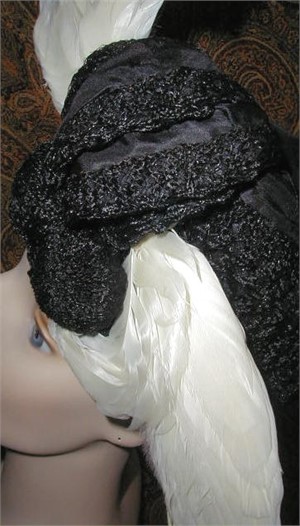 Click image to enlarge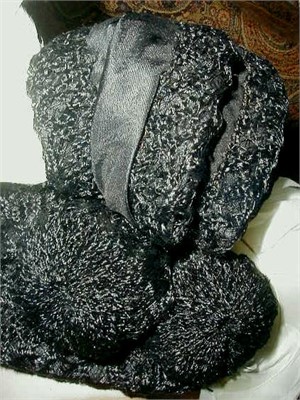 Click image to enlarge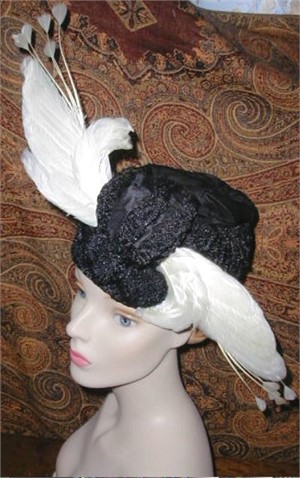 Click image to enlarge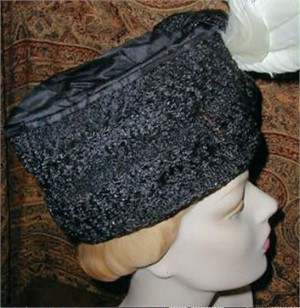 Click image to enlarge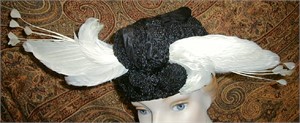 Click image to enlarge
Edwardian French Hat w Swooping Feathers, Paris
SOLD!! 7/20/2011 Thank You to CE…Merci!

Extremely rare, antique Edwardian French hat with a Paris label, in excellent, near pristine condition. Outrageous! Dates from 1913 to 1914. Made of lightweight and frilly ribbon weave, black Horsehair braid and black French silk taffeta, with swooping pure white feather wings that seem to want to take off in flight! The front of the hat has two large puffy "doughnut" circlets and a triple row of silk HH braid. The top of the hat is silk taffeta. Expertly built on a hand made wire frame and very light feeling on the head. Drawstring liner, and black silk label which reads MARY & ANNIE, Boul de la Madeleine, 1 Rue Godot de Mauroy PARIS.
No doubt the French millinery team had the new "miracle of flight" in mind when they designed this astounding French chapeau. A rare example of the changing styles in millinery after 1912, when hats grew smaller and taller and trims soared to new heights. A glance through any French fashion magazines of 1913 to 1915 will show you similar styles, but this one is quite unique.
The feathers are snowy white (whiter than they appear here) and are a French composite wing made of what appears to be swan feathers or other similar feathers, and they are very glossy, with "burnt out" tips and they look beautiful from any angle….
This hat looks as if it flew right off the set of Downton Abbey, and it s fit for a Duchess or…… dare I say…a Queen?
Antique French hats from this time period are almost impossible to find, especially in this near pristine condition….

I came to this hat through a major museum de-accession and it is almost pristine…possibly never worn…..The feathers are pure white (not aged or yellowed) and glossy and supple, no dryness or shedding and they are firmly attached. The hat has no wear, no soiling, no fading, no rips, no tears…the silk has no splits or flaws….the horsehair braid is excellent…..the inside of the hat is very clean, the lining has aged slightly but is overall very good……no soiling to the hat…..Very well preserved…..

Price: $464.00
We're sorry but this product is sold out.
You may be interested in these similar products:

1920s GAGE Ribbon & Gilt Cloche