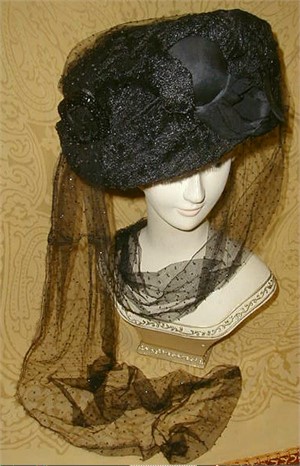 Click image to enlarge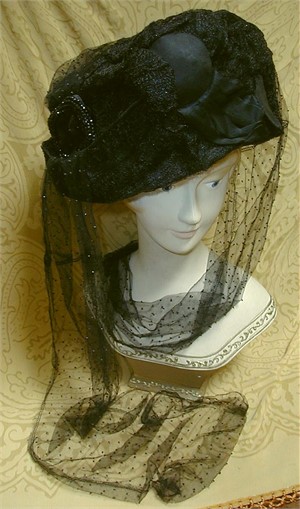 Click image to enlarge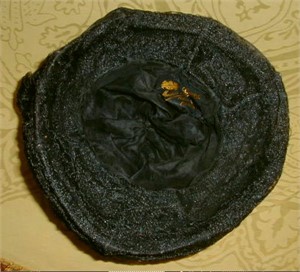 Click image to enlarge
Click image to enlarge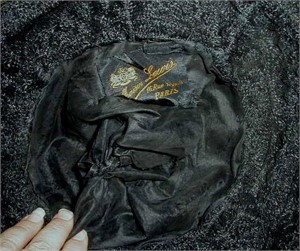 Click image to enlarge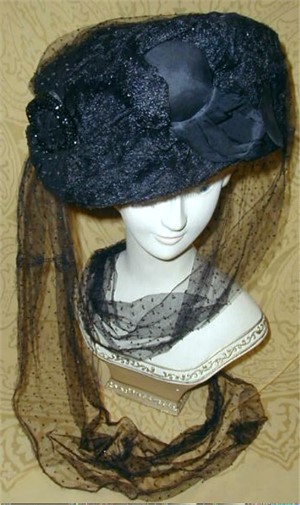 Click image to enlarge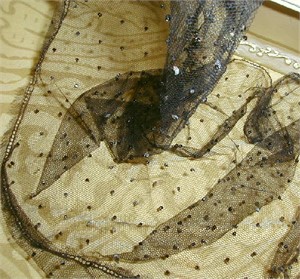 Click image to enlarge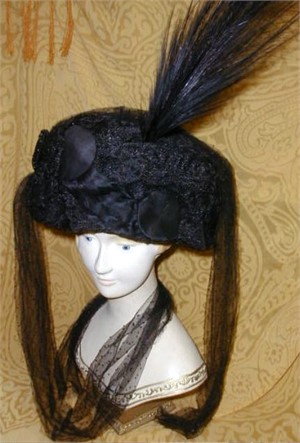 Click image to enlarge
DOWNTON ABBEY FRENCH Edwardian Turban w Plumes
SOLD, 2016

A GRAND French chapeau that is fit for an Empress. This hat very much reminds me of the black mourning hats worn by the Dowager Countess, Violet Crawly, on Downton Abbey! Dates from 1909 to 1912. Very large, wide and deep "turban" toque is a frame of black silk covered wire, swathed in black silk fabric and lace like horsehair braid, with large black silk circles on the front which are connected by a black ruched silk ribbon, , and a huge black French jet buckle on the side. Slid thru the buckle is an exquisite black silk netted scarf that is studded with tiny hand sewn, glittering jet beads, and which trails to a long long wide scarf to wrap around the throat or neck. Swooping tall black egret plumes rise sky high from the hat, to create fabulous drama. The plumes have been removed from the hat for storage as was common place to do. You may choose ivory plumes instead of the black, as both were found with the hat and I offer your choice of 1 adornment.
Fully lined in black silk , and bears the label of the famous Victorian and Edwardian French milliner Maison LEWIS, 16 Rue Royale, Paris. Stamped in gold and sewn to the lining, the label is beautiful as well.

As you more experienced millinery collectors may know, Lewis was one of the top 10 milliners in Paris from the late 1890's through the 1920's, and his hats were prized by American women of wealth and status. He was a contemporary of Caroline Reboux and his hats cost hundreds of dollars in 1910. This high, deep basket, turban style was so popular in 1908-1912 and really looks so stunning and quite aristocratic.
The toque is very deep and wide. Fits almost any head size, and sits upon an inner wire basket frame….An extremely hard to find style, fabulous materials and trims, rare feathers, and the coveted French Parisian label make this a hat to dream on.
Reminds us of a hat worn by a Russian Empress or member of some royal family in Europe…and who knows? Maybe it was!
Though it is a large hat, it is surprisingly lightweight, quite high in the front, sloping down slightly on the sides. Drawstring Liner is a fine light black silk. While beautiful as it is, the hat also features a beautiful rare spray of aigrette/egret plumes in deep black, the ends of which are wrapped in black velvety braid. The spray spikes to over 20 long and has a wrapped loop at the bottom for attaching to the hat. This plumage was found with the hat, laid inside the hat box, and as you are aware, this was the practice in storing hats with large high plumage. The feathers would often be removed during cold storage, and replaced when the season began again. While I am not sure if the long narrow scarf is original to the hat, it was found with the hat hat, and so I suspect it was worn for mourning or traveling on a ship or for windy days? It is a fine light French silk net scarf, approx 84″ long with hand beaded jet (or French jet) beads that have a subtle glimmer. The scarf is threaded through a large jet beaded buckle adornment, (about 3 1/2″ wide) which was sewn to the hat when needed. When all 3 are combined, the effect is quite stunning, and certainly "Queenly"!
Condition is very good ..…Clean and fresh, no soiling or holes, ….The silk netted scarf is excellent with no holes and is supple and not dry, and all beads are intact and securely sewn on. Egret plumes are excellent with no dryness or breaks, no shedding…..inside of hat is very clean, lining is very good, no tears or splits….the label is a bit loose, but not a detraction…..there may be slight signs of wear to the hat, but you have to look close to find anything….I noticed only that the large black silk "circles" have some slight wear and few itsy splits on 1, but overall the hat is near excellent. No soiling or fading, deep dark black, all trims intact and the silk material and horsehair braid has no wear or dryness….

Price: $350.00
You may be interested in these similar products:

1920s GAGE Ribbon & Gilt Cloche