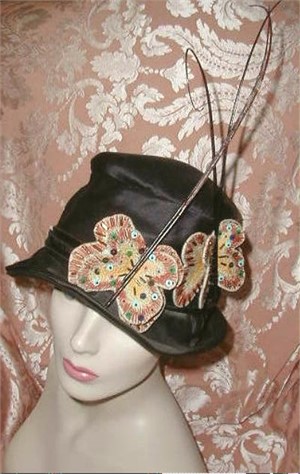 Click image to enlarge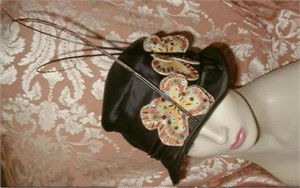 Click image to enlarge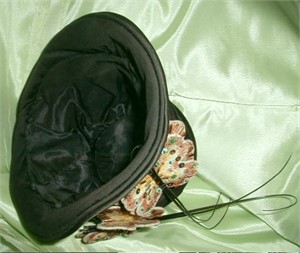 Click image to enlarge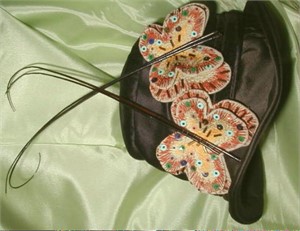 Click image to enlarge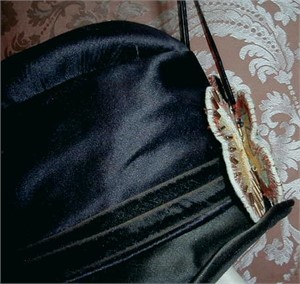 Click image to enlarge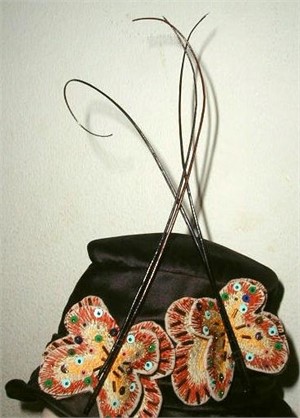 Click image to enlarge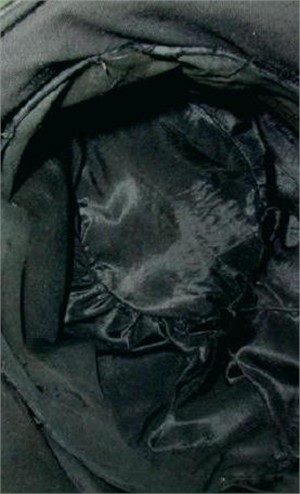 Click image to enlarge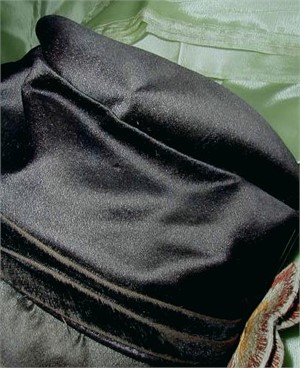 Click image to enlarge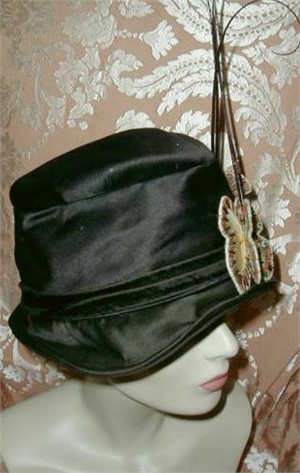 Click image to enlarge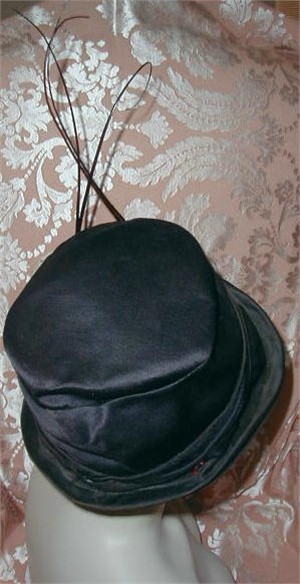 Click image to enlarge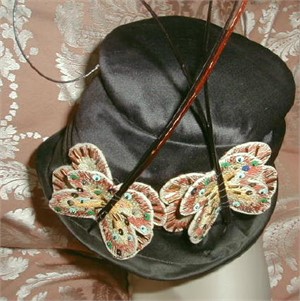 Click image to enlarge
1915 Beaded Butterfly Cloche Hat of Black Silk
SOLD! July 2012. Very French in its appeal, this whimsical toque of black silk features two large and glittery Beaded Butterflies! A delightful chapeau that is surely one of a kind. Dating from circa 1914 to 1917, WWI era, the cloche toque is made of fine grained black silk satin with a matte finish, and a band of satin and black velvet. Each butterfly is 3 dimensional, with 2 sets of wings that open to create a rich look. The butterflies are made of soft beige felting, hand sewn with tiny copper glass beads and tiny multi-colored sequins….the wings are sewn to sturdy black (ostrich feather) stems which swoop skyward and are split at the top as they gently curl and intertwine above the crown. The butterflies appear to be flirting or mating, which may be a nod to a sweetheart away during the Great War.

The hat is fully lined in black satin and has a nice deep cloche crown that measures 22 1/2″ so it can sit low on the face if desired. No maker's mark, but it could have lost the label as 1 side of the lining is loose, but the hat is in good clean condition.
This particular millinery style, that of small hats with high crowns and trims that spiked skywards or out to the sides or to the back, was popular from about 1913 to 1919…It was a backlash from the huge over sized and over trimmed hats of the Edwardian era, as well as a symbol of austerity or nationalism during Wartime. These smaller hats often featured very sparse or even singular trims of a long thin feather or branch. etc. I adore those styles, and they are scarce to find today, and so this beautiful and whimsical butterfly hat is a rare example of that era.

CONDITION: GOOD ..Outside of the hat is in good condition, showing light age, but is not soiled or faded, no holes or rips…the black silk is soft and not dry or brittle, and the color is even dark black. The silk and velvet band shows wear to the black silk velvet in places (not to the black silk satin, just to the nap of the velvet part) , the velvet part is almost worn away, but the rest of the silk hat is lovely with no obvious wear. Not soiled…no odors….I found 1 tiny red spot, as if something stuck to the hat, on one side but it is tiny and hides under the rolled up brim…really tiny…. The wired brim is slightly wavy but it still looks fine to me. The butterflies are excellent….no missing beads or sequins, and are attached securely. The black stems are very good, only 1 has a teensy tip break, not noticed…they are not chipped or faded and are evenly colored and still supple and do not break when handled. The interior of the hat shows some age, as you can see in the photo. Not dirty looking, looks clean, no holes to the under brim…but the black lining show age, still intact but is detaching along 1 place and slightly pulling away. It is not dry or splitting, but shows age and rumples, etc. So the hat does have some age, mostly to the inside, but is still overall good and certainly can be worn if you choose.

Price: $0.00
We're sorry but this product is sold out.
You may be interested in these similar products:

1920s Flower Cloche Hat Bijou