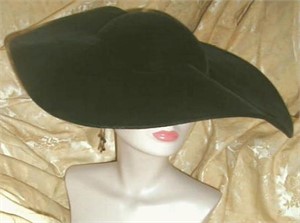 Click image to enlarge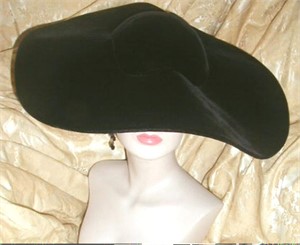 Click image to enlarge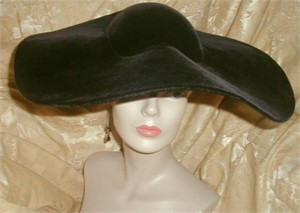 Click image to enlarge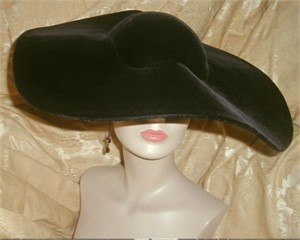 Click image to enlarge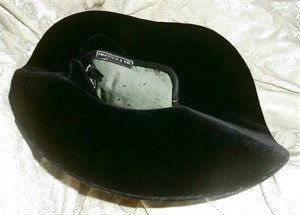 Click image to enlarge
Click image to enlarge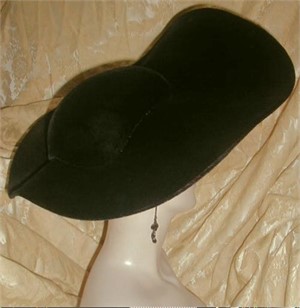 Click image to enlarge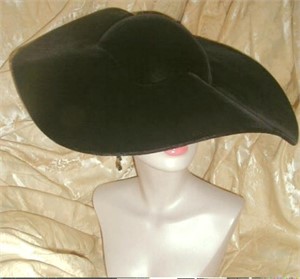 Click image to enlarge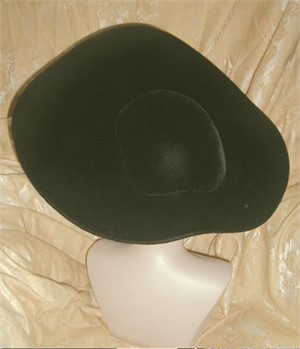 Click image to enlarge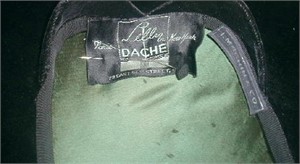 Click image to enlarge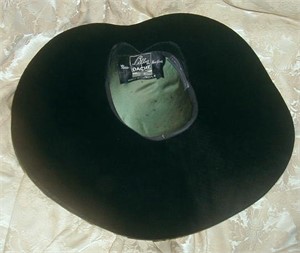 Click image to enlarge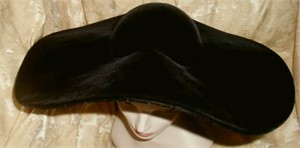 Click image to enlarge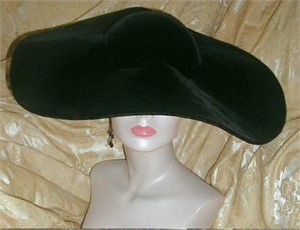 Click image to enlarge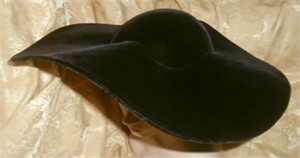 Click image to enlarge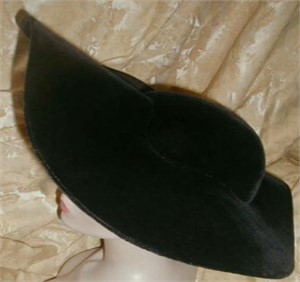 Click image to enlarge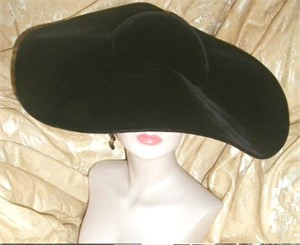 Click image to enlarge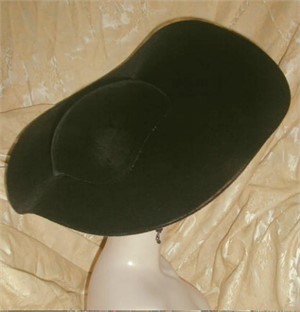 Click image to enlarge
LILLY DACHE Hat. New Look Era Black Velvet Saucer
ICONIC and MAGNIFICENT are the words that immediately come to mind when you gaze upon this breathtaking vintage hat by LILLY DACHE'. Vintage is 1948 – 1949, the NEW LOOK Era of fashion. A true museum piece, this same hat was prominently displayed at the F.I.T. (Fashion Institute Of Technology) in New York City for their 2007 Museum exhibition of Lilly Dache fashions and hats.

Extremely wide brim saucer hat has a wavy brim that dips up and down, and was inspired by a French nun's headdress. Made of lush black silk velvet, with a shallow rounded crown that extends below the brim to create a "clutch" bandeau to help secure the hat on the head. Comes with two black velvet hatpins. Lined in bottle green silk.
Labels are two, one is LILLY DACHE, 78 East 56th Street,, NY. The other label is I.Magnin. I Magnin was one of the (if not the only) West Coast store that had exclusive rights to sell Lilly Dache' custom hats. The hat measures 20″ across and is truly one of the finest examples of New Look Era millinery that I have ever come across. A wonderful investment piece of millinery couture.

Didn't Dovima wear a very similar hat in the 1948 issue of Vogue magazine? If not then one very similar, with the model's mouth and 1 eye peeking out as she sipped her cup of tea!
CONDITION: is Very Good. Clean, with no crushing to the velvet, no shine, no wear or soiling. No spots or fading. Has been well stored and has no odors, and is not out of shape. The lining has some marks and spotting, but is otherwise fine. the hat may show some mild signs of age but I find it in very good to near excellent condition.

Price: $778.00