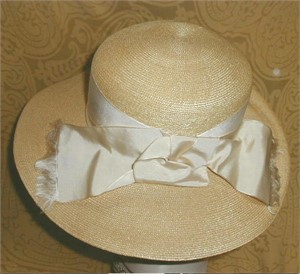 Click image to enlarge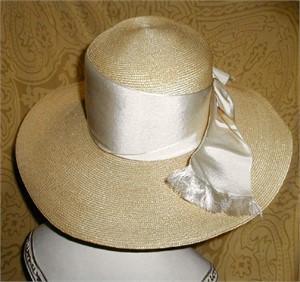 Click image to enlarge
Click image to enlarge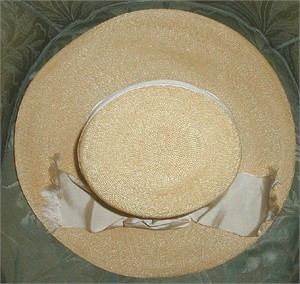 Click image to enlarge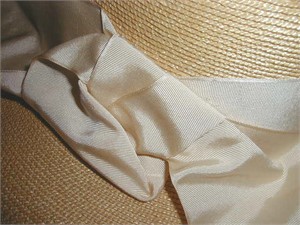 Click image to enlarge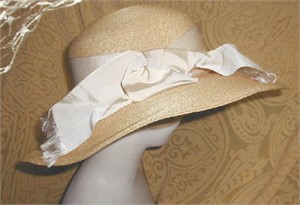 Click image to enlarge
Click image to enlarge
Grand Edwardian Straw & Silk Hat
From a wealthy New York State Hudson River Valley mansion, I am very pleased to offer this NEVER WORN and near Pristine Edwardian straw hat. A quite Grand example of the milliner's art. Titanic Era, circa 1909 to 1912. Lush Italian Milan straw braid in a pale natural hue, with a huge and very deep crown and nice wide brim, trimmed with the best French silk ribbon and a fancy bow at the side. The straw is the very finest quality, supple, strong, thick yet very flexible and with a subtle luster and "glow". The French silk ribbon is very wide and of a heavyweight, and perfectly beautiful!

The hat is in need of no further adornment as it stands perfect in its classic style and exquisite materials. Fully lined in silky cotton sateen (cotton satin) with the milliner's name stamped in bright gold gilt. Mrs. R.R. Wilson Millinery, Ft. Dodge, Iowa. Head size is large, at 23 1/2″ in circumference. Large enough to accommodate any proper Edwardian hairstyle. The hat measures: 16″ across side to side, and 17″ front to back, crown is 4 " high.

VERY RARE to find an antique hat that appears as if never worn and in such amazingly well preserved condition. One of the finest Edwardian hats I have ever seen in my 35 years of collecting.
Excellent Condition. Fresh and very clean with absolutely no wear. This was well stored in trunk and was kept away from light, air and pests, so it is well preserved and near pristine. I would say "perfect" but there is some bit of waviness to the brim from storage, which is not a true flaw and can be easily steamed to shape. The straw is excellent, clean and fresh, no spots or fading or soiling, very strong and supple, flexible with NO dryness or flaking whatsoever. The French silk ribbon is perfect, soft, strong and supple with no dryness or splits, no spots or spoiling, no snags. The lining is clean and has no wear or soiling and is sewn in securely. The hat is overall excellent!

Price: $585.00
We're sorry but this product is sold out.