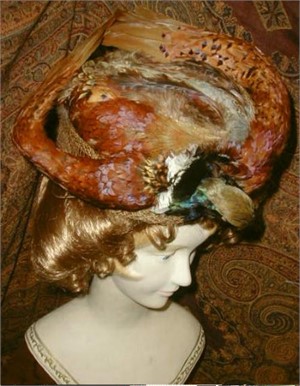 Click image to enlarge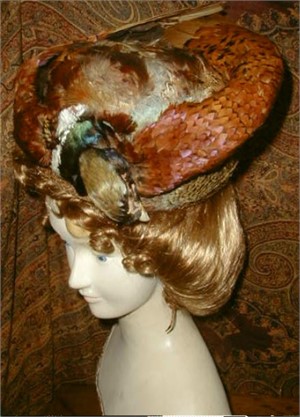 Click image to enlarge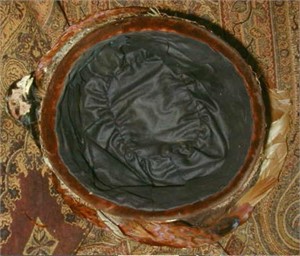 Click image to enlarge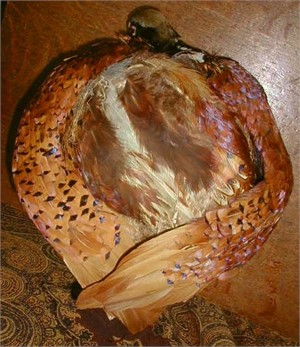 Click image to enlarge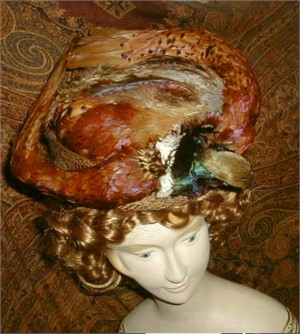 Click image to enlarge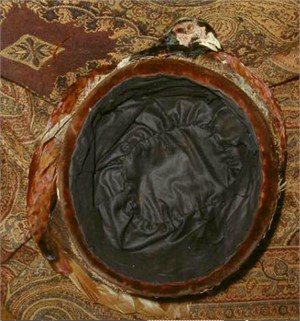 Click image to enlarge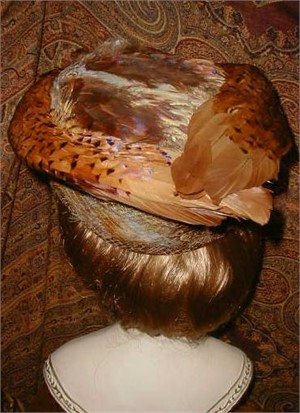 Click image to enlarge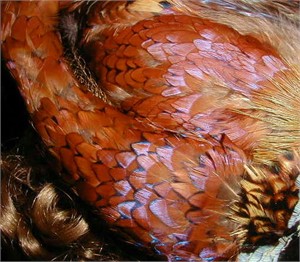 Click image to enlarge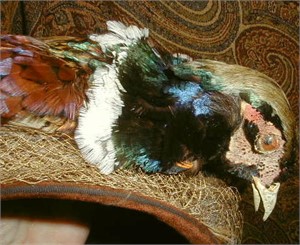 Click image to enlarge
Edwardian Pheasant Feather Toque w Bird
SOLD,Thank you!

ONE OF MY ALL TIME FAVORITES, FROM A MUSEUM COLLECTION.

While I don't condone the wearing of entire birds on one's head, the fact remains that it was a very popular millinery style in the Victorian and Edwardian eras. Few of these masterpieces of the marriage of millinery and taxidermy have survived, making this a rare find and wonderful addition to any collection.

Exceedingly scarce, Edwardian Era toque hat with a beautiful genuine Pheasant diving in flight. Circa 1908-1912, high and deep turban/toque style, completely covered in pheasant plumage, with large and long, plumply padded and wired millinery "wings" on both sides, and a genuine pheasant head and neck complete with beak and glass eyes. The bird appears as if he is ready to take flight, or maybe take a peck out of you!

The plumage is extremely glossy and lustrous, supple smooth and soft, with a range of colors from gold to purple pink, to greens and blues…stunning rainbow effect as the light plays over the feathers. The hat is fully lined in black sateen and bears it's milliner name label stamped in blue. The sides have a thin layer of French gilt metallic gold silk netting, which helps to keep the feathers in place, as well as adding a fashionable touch. The hat is a SIZE LARGE, measuring over 23″ in inside circumference. You can wear the hat low on the forehead like a deep cloche…or have it it high atop your piled up coiffured hair as I show it both ways.
Rumor has it that women were cautioned to not wear these hats while walking in the country during pheasant hunting season…they might get shot!
The milliner name inside is Alice A. Burhans (or Burhams?), Kingston N.Y.

CONDITION of the hat is overall Very Good. Clean, no odors, sturdy, not shedding or flaking, has been well stored and cared for in a temperature controlled environment for most of its life. The fact that it has survived at all is amazing, and so any small flaws are not a huge detraction to its worth and beauty. I think it is very good. That said, it does show some mild signs of its age. The lining is intact and overall good, light wear and some age as shown, and is not torn or shredding. The foundation wires are not poking out, velvet edging is good, with light wear but no tears or holes. The hat has no moth damage. The hat is delicate by nature as it is an antique bird, and needs to be handled with care…but I wore it around the house for a bit to test it out, and it held up just fine and feels comfy on the head. It is not shedding or dry or brittle feeling. The pheasant head shows light age to the beak, etc…but is intact and overall very good (see photos) and is attached well. The "wings" are really excellent…one is a bit loose but not falling off. The plumage is overall extremely lustrous and glossy and supple. The museum had sewn a few stitches to moor and secure the wings, and I do not want to remove them, and you can see the stitches in a couple places on the lining. It does show some age, some very minor feather loss in just 2 small places…but unless you look close and see a few small flaws, it really appears near excellent….It is not perfect, but do think the hat has survived pretty well, is one of the best preserved of these hats I have ever seen outside of a museum, and I hope someone will love this and preserve it for future generations.

Price: $0.00
We're sorry but this product is sold out.