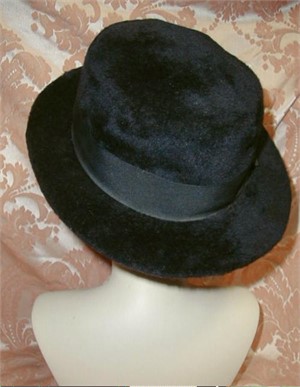 Click image to enlarge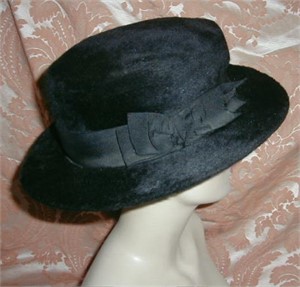 Click image to enlarge
Click image to enlarge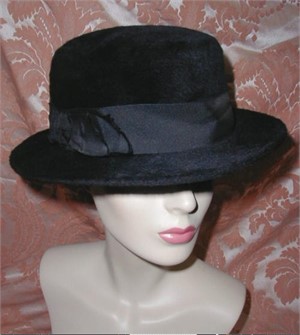 Click image to enlarge
Click image to enlarge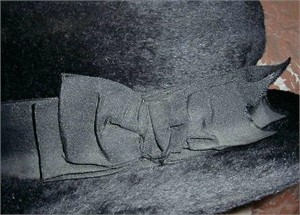 Click image to enlarge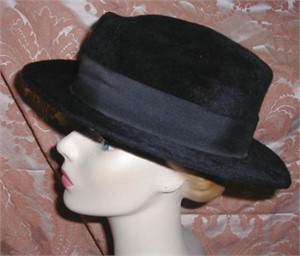 Click image to enlarge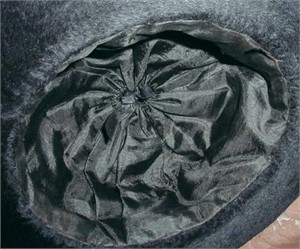 Click image to enlarge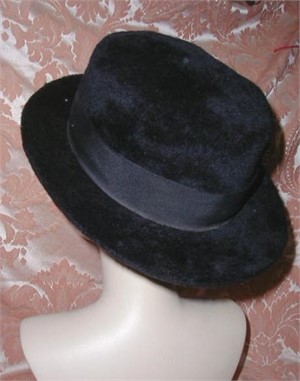 Click image to enlarge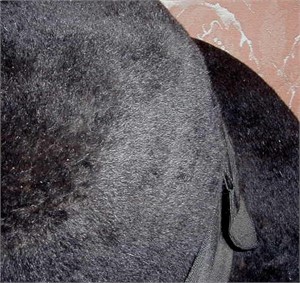 Click image to enlarge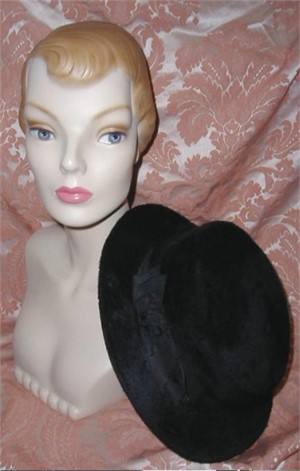 Click image to enlarge
Edwardian Fedora for Her, 1913
This is a wonderful and classic, Edwardian Era ladies Fedora style hat! Finest quality, thick and dense beaver fur-felt in classic black. The hat is inspired by the masculine stylized fedora, and the crown is wrapped in black French silk grosgrain ribbon with a double bow on the side to add a touch of feminine style. The felt has a smooth shaggy nap and is buttery soft, yet very sturdy. The crown does not have the masculine fedora "crease" or pinch, but is smooth and flat similar to a boater style hat. Of course, you could add a crease if you desired! Fully lined with a black silk drawstring lining.
The age is circa 1912 to 1918, which is just past the Edwardian age but the style fits in with The Titanic Era hats in its classic silhouette. The deep wide crown measures approx. 22 1/4″ around and the hat fits comfortably on the average head.
Popularized by Sarah Bernhardt when she played the character "Fedora" on the stage in the late 1800's, and adopted by women such as Gertrude Stein, the female version of the Fedora has always been a favorite of literary women, female artists, and well as feminists and actresses such as Marlene Dietrich and Greta Garbo. It is quite rare to find one from the Edwardian Era, and this one is not only beautiful and fine quality, but it is in excellent clean condition.

If a more dressy look is desired, this hat can be easily trimmed with a French cut steel buckle, brooch, feathers, or other ribbon embellishments. I like it just as it is!

Perfect to wear with your antique attire or today's fashions! This hat will never go out of style…..
PLEASE NOTE: The hat and ribbon are dark black, not "blue" or faded. I had to lighten the photos to show the details…thank you

Condition is very good. Very clean, no odors, fresh and ready to wear. No moth bites, no moth holes, no soiling, no fading or noticed signs of wear. The lining is very good, and very clean. The hat shows little signs of previous wearing. The fur felt is thick and sturdy, supple and velvety soft. The ribbon is very good, no tears , just a folded over end from storage. There are a few tiny pinholes on the side of the ribbon, as if a pin was there previously….There is a slight dip on the hat's crown from storage, but this is very slight and is easily steamed out if it seems a detraction. Really well preserved.

Price: $0.00
We're sorry but this product is sold out.
You may be interested in these similar products:

1940s Felt Flowers TIlt Hat, New York Creations