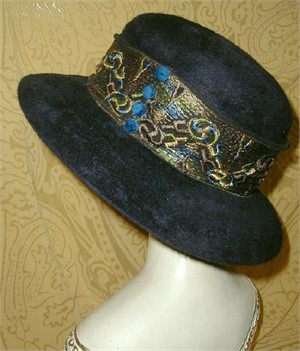 Click image to enlarge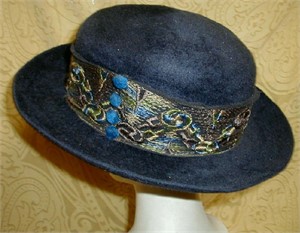 Click image to enlarge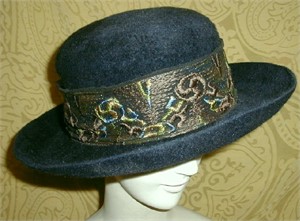 Click image to enlarge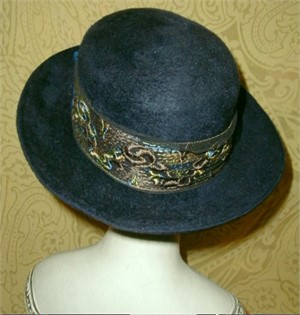 Click image to enlarge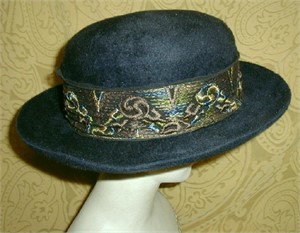 Click image to enlarge
Edwardian Blue Felt w Embroidered Band
SOLD….
Beautiful Edwardian Era ladies hat, in rich darkest Navy Blue beaver felt. Crown is wrapped in a luxurious French Lace Net that is covered in silk embroidery and trimmed with 4 turquoise hued velvet buttons. Lovely embroidery is unusual in its colors, and is not as yellowish as it may appear in the photos. The style is after a man's bowler or derby, and medium wide brim can be snapped up or down, but the milliner intended it to be worn up. We show it both ways for you. The hat is a very dark Navy blue, almost looks black in certain lights, but is indeed Navy. The felt is quite thick and very sturdy, and has a plush soft nap, and all trims are original to the hat.
The hat has a black silk drawstring lining, and has the milliner's label on the inside crown tip…reads Mrs. A.B. Mowery, Millinery, Bellevue, Ohio. The inside circumference is 23″ so it sits nice and low like a true Edwardian cloche style. Vintage is 1913 to 1916, possibly as late as 1918, with a nod to the earlier style lining.

CONDITION: Very Good. Was well stored. Clean with no stains, no worn areas, no snags, no moth bites, no odors. Beaver fur felt nap is nice and plush, supple and soft and sturdy. No fading or wear. No crushing or dents. Inside of hat is clean, and the lining is attached and not split or torn. Embroidered band is very good, no holes or tears and the buttons are firmly attached. The hat shows very light signs of age but nothing noticed and overall very well preserved indeed.

Price: $0.00
We're sorry but this product is sold out.