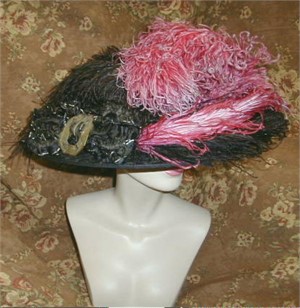 Click image to enlarge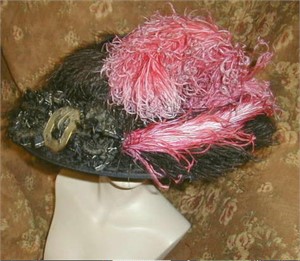 Click image to enlarge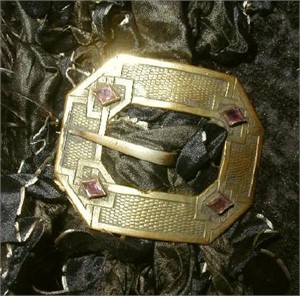 Click image to enlarge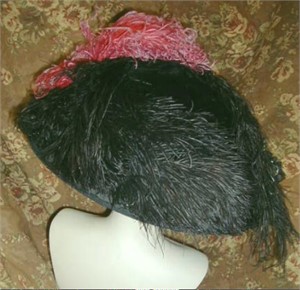 Click image to enlarge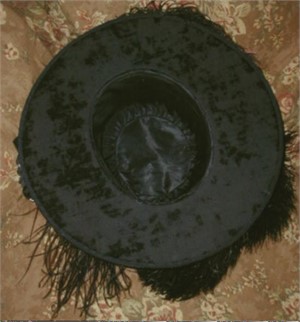 Click image to enlarge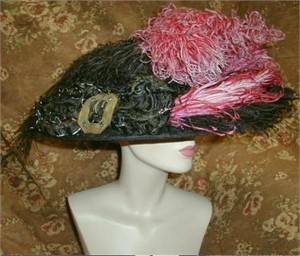 Click image to enlarge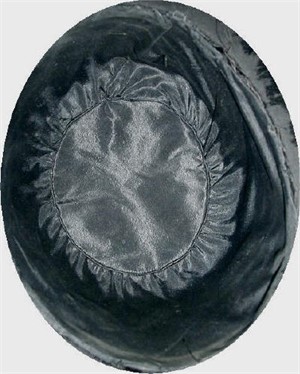 Click image to enlarge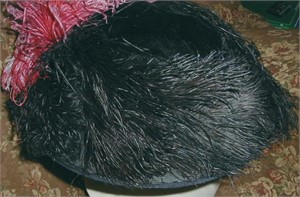 Click image to enlarge
1910 Titanic Era Hat w Pink Ostrich Plumes & Jewel
Sold 10.2012, thank you!

GRAND and oh so OPULENT, this HUGE antique Titanic Era hat is sure to turn heads and get you lots of attention. Genuine antique, circa 1909 to 1912. Big Brim hat of black silk velvet is loaded with elegant trimmings….Frilly and curly deep Pink hued ostrich plumes, a black weeping willow plume, and 3 large black ostrich plumes on the side. Embellished on the other side with a large and stunning, Edwardian sash buckle of burnished gold metal with 4 sparkling pink glass stones. Laced through the sash pin is a froth of gossamer light, black and white striped French silk, wonderfully pleated to make a ruffle pouf.
The hat is fully lined in black silk taffeta …and good news….it is a size large, with an Inner circumference is approx. 24″ so this sits nice and low or wear it on your pouf of Edwardian hair and tilt it forward.

The underside is dark grey-black velvet that has worn to an almost solid pale black woven fabric that is still nice even if the velvet nap is worn off. The brim is edged all around in black grosgrain ribbon and is wired to keep its shape and support the trimmings…..

CONDITION is GOOD. The trims are good, all plumes are very good, with no shedding or breaks, not dry, no shedding….the sash buckle is lovely, not scratched and no missing stones…has a nice aged patina…..the silk pouf is lovely, not dry or shredding…..The willow plume in back is a bit wilted, but it is supposed to be wilted and drooping, so it doesn't really detract….There is some loss of the silk velvet pile on the hat, most on the facing (underside), not too much on the top of the crown which is still very nice….The lining is good, some age and discoloration, slightly loose in a couple places, but is overall good, not splitting or ripping, aged but not dirty…..So, the hat does show some of its age, looks a bit tired, but is very able to be worn in my opinion, but of course it is best kept for a display to preserve its beauty. I think the rarity and beauty of this hat offset the flaws, and it is still a rare find for your collection…

Price: $388.00 On sale for $252.20!
We're sorry but this product is sold out.
You may be interested in these similar products:

1940 Black RIDING HAT w Ostrich Plume,Veil & Jewel