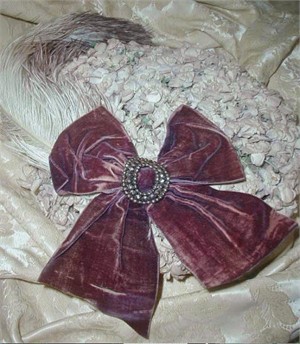 Click image to enlarge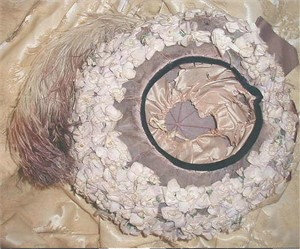 Click image to enlarge
Click image to enlarge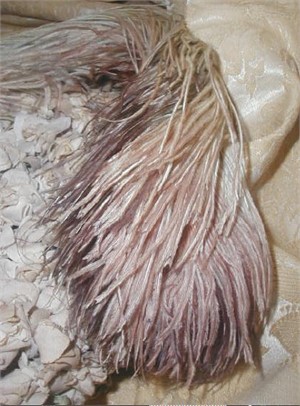 Click image to enlarge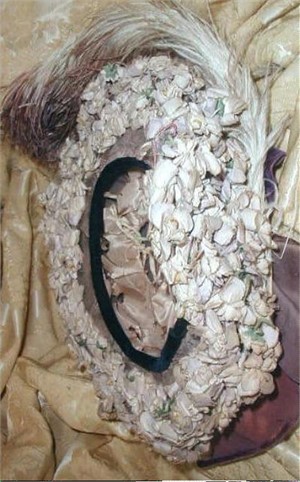 Click image to enlarge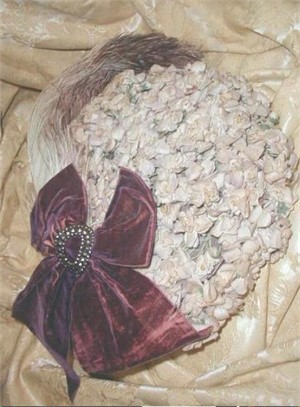 Click image to enlarge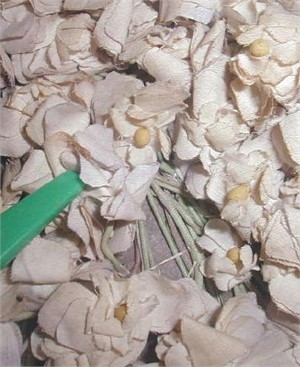 Click image to enlarge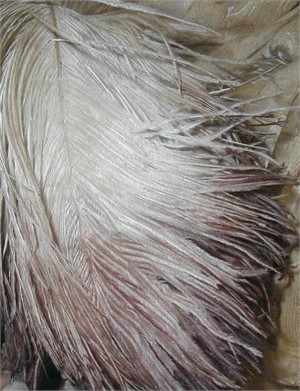 Click image to enlarge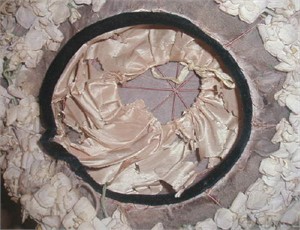 Click image to enlarge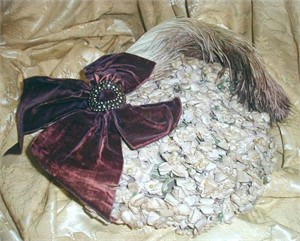 Click image to enlarge
1899 Victorian Purple Hat w Bow & Ostrich Plume
ON HOLD for JC, April 7, 2014.

Can it get any sweeter than antique pale purple posies? This time-worn but still enchanting Victorian French chapeau is covered in faded pale lilac hued flowers with long intertwined green fabric stems that are artfully bundled and wrap around the hat. The hat is trimmed with an ostrich plume in muted ombre' shades of dark plum, pale purple and ivory. On the side is a large dark purple silk velvet bow, worn but charming. Underneath the flowers you can see the original covering of lilac hued silk chiffon and silk netting and the wire base is made of wonderful lavender silk covered millinery wire. The bow is catched in a glittering and shiny French cut steel buckle.

The interior has most of the original lavender silk taffeta lining, which is tattered and fragile, and the label has disintegrated and is no more. Before it fell apart in my hands, the label read Madame Carlier, Paris. The chapeau dates from the very late 1890s, circa 1898 to 1901.

The hat could not be shown here placed on my mannequin head, as the hat is meant to sit perched atop a piled up hair style of the time. The head opening is small, about 16 inches. The hat measures approx 13″ across at the widest point.

Condition is, as shown, aged and faded, but the hat is structurally sound and is sturdy. Most of the faded flowers are there, only a few missing. Plume is worn and aged but that adds to the shabby appeal to some collectors. Velvet bow is worn, as shown. Silver buckle is very nice, no rust, still a good shine and glitter to it. So the hat is aged and flawed but still has so much appeal I had to offer it for sale. I know someone will love to own and display this.

Price: $128.00
You may be interested in these similar products:

1913 French Edwardian Cherries & Fur Hat, Maurice